Tauranga – Trustpower Arena
29th of April 2022
Rachel Afeaki-Taumoepeau and Ruby Siakia attended the Pacific Business Village launch hosted by The Ministry for Pacific People.
What is the Pacific Business Village?
The launch provided insight on the refreshed line of action to the Pacific Economic Development model. The aim for the Village is to urge pacific-owned business entities to have the ability to connect, share best practices, and tell success stories.  
The Ministry for Pacific People aim to achieve this with the help of Pacific Business Networks, Pacific Business Providers and Pacific Businesses.
The Networks

form the connection with local pacific businesses in the region, introducing businesses with the local pacific business providers.

Pacific business providers help enhance the skills and competencies of the pacific businesses, in which they can build a long-term relationship with the business.

Pacific businesses have access to investments that will help grow their business, as well as networks with providers that can support their business.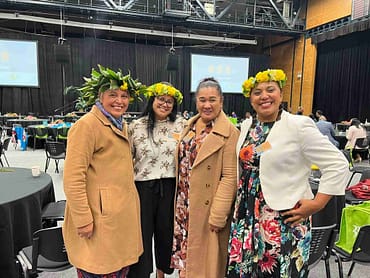 Tauola Business Fund
The Tauola fund supports Pacific businesses outside of Auckland with up to $100,000 of capital investment. Allowing a gateway towards development growth, employment pathways and increasing regional productivity. Helping pacific-owned businesses become more successful and resilient through Covid-19.
Funding Recipients
Two speakers shared how the Pacific Aotearoa Regional Enterprise Fund helped their business.
Boydies Building and Reno
Andrew Boyd owner of Boydies Building and Reno Limited is a recipient of the Pacific Aotearoa Regional Enterprise Fund. With Niuean heritage, the funding from MPP meant Andrew was able to buy a small digger, and provide equipment for his team. By providing his team with this equipment it can help upskill his employees and increase regional productivity in Tauranga.
Deep Dive Division 
Pauli Motootua (Tua) Samoan decent and Courtney Karalus, are owners of Deep Dive Division. With the funding Tua and Courtney were able to purchase some capital that helps attain research for our waterways. Providing the councils with environmental monitoring, aquaculture farming and scientific data collection. Deep Dive Division works to create a relationship between people and the environment. 
It's amazing to see that there is progress and steps in place to help support Pacific people.  
For more photos click HERE